LAMPETER Rotary Club, in association with the University of Wales Trinity Saint David, presented an open meeting to raise awareness of what has been done and what is proposed for rural health and community wellbeing in mid Wales.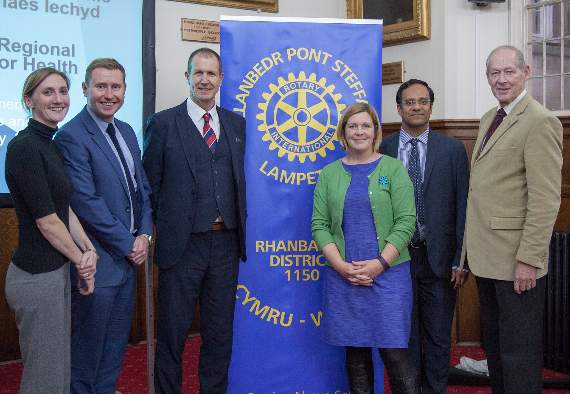 The meeting was organised following the introduction of the Welsh Government's Wellbeing of Future Generations (Wales) Act 2015.
The event featured a mix of static displays with formal presentations from various speakers representing the Mid Wales Healthcare Collaborative, looking after the interests of Ceredigion, Powys and Betsi Cadwaladr University Health Board.
The aim of the collaborative was to redefine how policies and services can improve the health and wellbeing of those living in rural communities, one stated aim of which is to establish an additional clinic within the local area to reduce waiting times for patients in mid Wales.
The Centre for Excellence in Rural Health Research presented on how research at Aberystwyth University, exploring the use of technology to monitor and support patients with Chronic and palliative disease, had offered access to services otherwise unavailable for patients in the area and demonstrated improved patient well-being. The development of the research centre will support ongoing research activity with local communities to improve and inform the health and well-being of the local population.
Consultant ophthalmologist Manoj Kulshrestha, Wales' first reader in rural health and community wellbeing, was a key speaker together with UWTSD's Roger Maidment, dean of the faculty of business and management.
Representatives from Ceredigion County Council also outlined their five-year local plan and reported on their recent wellbeing survey.
By Mike Lewis – Cambrian News