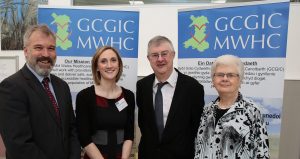 The announcement was made today, Thursday 24 March, at the launch of the Centre for Excellence in Rural Healthcare by Welsh Government Minister for Health and Social Services, Professor Mark Drakeford AM.
The new Research Centre will see Aberystwyth University work closely with the Mid Wales Healthcare Collaborative and Hywel Dda University Health Board to address some of the unique challenges of delivering healthcare in a rural area such as mid Wales.
The Centre will also promote and support an attractive research environment for clinical staff in partner health organisations.
Dr Rachel Rahman, Director of the Centre for Excellence in Rural Health Research said: "Delivery of healthcare to rural populations is challenging, not only in the UK but in developed and developing countries around the world. Attempting to address the unique challenges of rural healthcare through the simplistic extension of urban approaches is not effective and rarely accounts for the challenges of local geographies, cultural nuances, and economies of scale.
"The Centre for Excellence in Rural Health Research at Aberystwyth University will maximise on its location, embedded in the rural community of Mid-West Wales, to deliver innovative and impactful research which informs the provision of rural healthcare for current and future generations".
Steve Moore, Chief Executive of Hywel Dda University Health Board, added: "I'm delighted that we're able to work with Aberystwyth University and the Mid Wales Healthcare Collaborative on this exciting new project. We know that the challenges facing rural healthcare delivery are many and varied and together with our partners we will be taking a resourceful, innovative approach to find sustainable and lasting solutions that are of real benefit to communities in mid-west Wales."
Dr Sue Fish, Clinical Programme Director of the Mid Wales Healthcare Collaborative and GP in Borth, Ceredigion said: "The new Research Centre in Aberystwyth University will provide an exciting opportunity for the current and future clinical staff working in Mid Wales to become involved in research and innovation projects, which will develop the solutions to the challenges of providing rural health care. One of the first priorities will be to build on the experience in telemedicine which already exists in Bronglais General Hospital to develop the use of technology, so that specialist care can be made available closer to people's homes across Mid Wales".
Professor Chris Thomas, Pro Vice-Chancellor for Research said: "Aberystwyth University has a key role to play in improving prosperity and wellbeing in Wales' rural communities, and this new Centre is one of a cluster of new initiatives to do just that. The challenges of rural healthcare require interdisciplinary thinking, so it is great to see the range of expertise we can bring to bear on the problem. Other universities and partners across Wales will also be contributing to the Minister's initiative in their areas of strength, so between us I hope we can drive a real step change in thinking and make health care in mid Wales an exemplar for the world".
Aberystwyth University has an extensive background in health and allied health research as well as expertise in rural geography and data modelling.
Researchers based at the University's Departments of Psychology, Computer Science, Geography and Earth Sciences, and the Institute of Biological, Environmental and Rural Sciences have been working in areas that have potentially significant benefits for health care in rural areas.
The Centre will also build on current collaborative research with external partners who are key to delivering health and social care in rural areas.
Examples of current health related research at Aberystwyth University:
The Department of Psychology has been developing an innovative programme of research to understand the psychological challenges and experiences of rurality for chronically ill patients and their families and the role that telemedicine can play in supporting their health care needs. Specifically, projects have collaborated with Hywel Dda UHB to explore videoconferencing to link palliative care patients to specialist psychosocial support from their own home; the acceptability and experiences of telemonitoring to support the self-management of patients with chronic obstructive pulmonary disease and diabetes; and a pilot project to evaluate the role of telehealth to support virtual group psychotherapy for immunosuppressed patients.
The Department of Computer Science has a background in the analysis and modelling of clinical data, covering application areas such as chronic obstructive pulmonary disease, gynaecology, and computer aided diagnosis with a strong emphasis on clinical imaging, modelling of complex data and successful collaboration with clinical end-users. In addition, the department has extensive experience in the development of apps within a range of applied areas and with consideration of bilingual use.
The Department of Geography and Earth Sciences has examined health-related issues from social science and environmental science perspectives. Social science research has included analysis through the Wales Rural Observatory in collaboration with Cardiff University on access to healthcare services in rural Wales; as well as studies of older people and volunteering in rural Wales, including for example hospital car schemes, and of behaviour change and health promotion. Environmental science research has focused on water and health, including long-term research on bathing water quality and work on water courses and epidemiology.
The Institute of Biological, Environmental and Rural Sciences (IBERS) is working with the North Ceredigion GP cluster to evaluate the efficacy of a pre-diabetes intervention. Individuals from North Ceredigion identified at risk of diabetes will be offered a 30-minute one-one consultation during which they will be signposted to existing services to support changes in diet and activity. This work is closely related to an evaluation, which was completed by the former Department of Sport and Exercise Science and was funded by the Education Programme for Patients (EPP) to assess the impact of a diabetes self-management programme. The project was short listed for an NHS Award in 2015 and the EPP is now exploring options to expand the delivery of the programme across Wales.